Show your phrends that you appreciate them or jump-start a new relationship by sending gifts! With gifts, you can wish your phrend a happy birthday by sending a virtual bunch of balloons or celebrate Valentine's Day with a virtual box of chocolates. And, with 5 different gift options to choose from, you'll be able to convey exactly the right sentiment.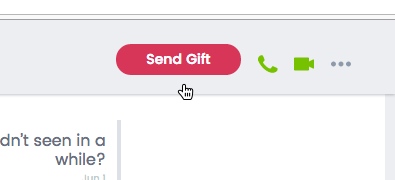 Once you've shared at least 3 sips with any given phrend, just click on Send Gift in the header of your chat.
Select a gift, add an optional note if you'd like, and then send your gift!


We're sorry, but you cannot use free or earned drinks on gifts. You'll be prompted to add drinks if you don't have enough to cover the cost of the gift.