Now that phrends have shared drinks with you, you can turn those drinks
into cash...to keep or to donate to a worthy charity.
The amount you earn for each interaction depends on the interaction type. You will keep $0.35/volley for chat, 70% of phone & video call earnings (after the $0.20/minute connection fee), and 90% of gifts. Learn more here.
To Keep
You can select either of our direct deposit options as long as your financial institution accepts ACH deposits/credits. Sorry, but we only support direct deposits to US-based bank accounts and we do not offer PayPal, Payoneer, SWIFT or wire transfers. We offer two direct deposit frequencies:
Express Pay, where you'll be paid out every day and see deposits about 10 days later:
Monthly Direct Deposit, where you'll be paid out every month on the first and see your deposit in about 10 days:
You must have at least $10.00 in eligible earnings* in order to be paid out .
If you select Monthly Check, your check will be issued on the first of the month. We'll mail the check to the address you provided and you'll get it in about 2 weeks. There is a $2.00 fee for each check. You must have a minimum of $10.00 in earnings* (after the check fee) in order for a check to be issued.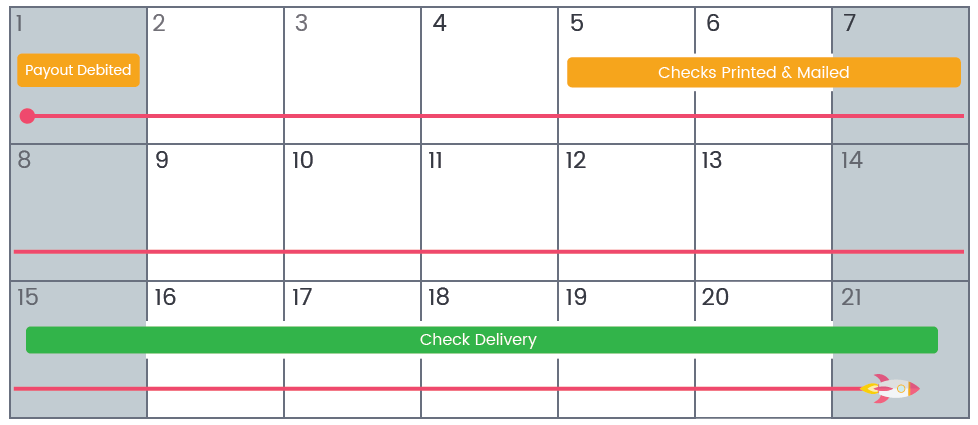 Please note that a $20.00 fee will be applied for any checks returned in the mail and for stale, voided, or stop-paid checks.
Once you've earned enough, go to Settings > Payout Info and enter your payee info, including your US work eligibility. Next, scroll to Request Payout and select how you want to be paid. You'll go through a quick verification process and--if you select direct deposit--will enter your banking info. If you like, you can choose to donate a certain percentage of your earnings to one of our nine charity options.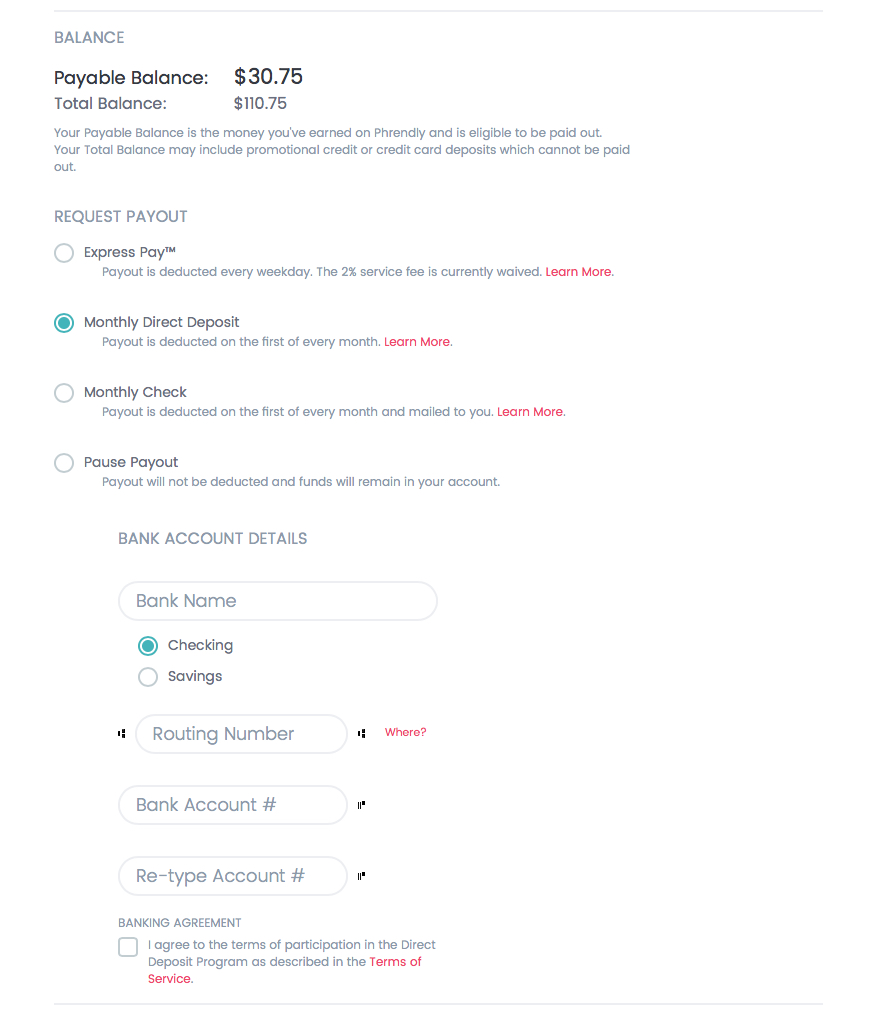 To Give
[Coming Soon]
Want to donate all or a portion of your drinks earned to charity instead? Awesome! Just select the percentage of earnings and select a charity. See "Donating Earnings to Charity" for more info.

To Spend
If you plan to share drinks with others, you're welcome to use your earnings. Just enter the amount you to keep in your balance into the "Balance to be left in account" section. If you want all eligible earnings* to be paid out, enter 0 (zero). If you have an active Promoted Profiles campaign, we will keep the amount of your Daily Budget in your account after you've been paid out even if you've set your "Balance to be Left in Account" to $0.00.

Feel free to change your payout preferences at any time!
*To be paid out, you must have at least $10 more in Payable Balance than your "Balance to be left in account" (which you choose) and any applicable fees. For example, if your "Balance to Be Left in Account" is $5.00, you must have at least $15.00 in your Payable Balance to receive a direct deposit and $17.00 to receive a check. Eligible earnings are drinks earned, NOT those given as part of a promotion. Funds added to an account from a credit card are not eligible to be paid to you. Except when specified, funds credited to your account for Special Offers or other Promotions will also not be paid out.