The right pane of your Profile page controls your Discoverability (Can you be found on the site? Are you accepting new phrends?), Availability, and Forwarding via SMS/text messaging. Flipping the switches correctly here will ensure you are contacted when and how you want. Let's have a look:
Discoverability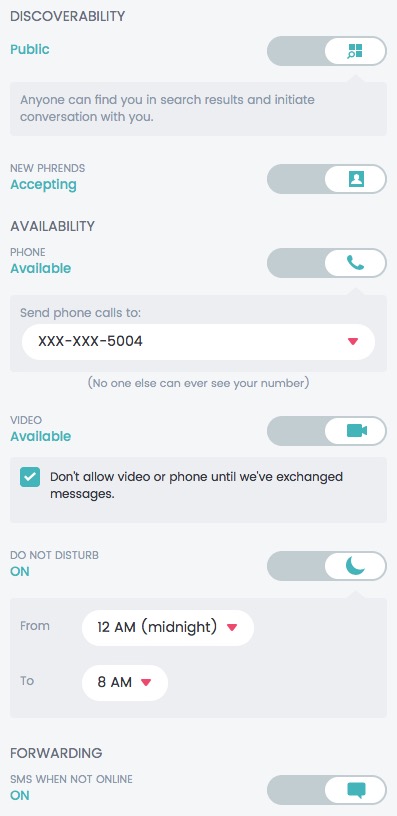 The top part controls your Discoverability. This is a fancy word for who can see your profile when browsing the site or mobile app. If you're Public, you can be found; if you're Private or Pending, you can't--it's that simple.
Where you show up when someone is browsing is less simple, as it depends on the filters they've set (things like age, ethnicity, etc), and the sort order they've chosen (Birds of a Feather, Opposites Attract, or Phrendly Formula, which emphasize similar profiles, dissimilar profiles, and a secret-sauce mix, respectively). Most importantly, all browse results are weighted by your responsiveness, so be sure to respond to each phrend quickly and engage them in meaningful conversations. That'll give you the best chance to end up high in the browse list.
Public or Private

We have a simple rule on Phrendly: Private means private! If you set your profile to Private, no one can initiate a new conversation with you, not even your bestest, oldest phrend. Going private is a great option if you need to fill up on berries and honey and hibernate in a cave for the winter.

But what if you want to allow existing Phrends to contact you, and just don't want to be bothered with new ones? You may already have as many phrends as you can handle! That's what the switch "Accepting new phrends" controls. Keep your profile public, but set this to "No", and you'll be taken out of search and browse results, but existing phrends will be able to contact you via their Phrends List. Sing with me: "Make NO new phrends, but keep the old ones…" Normally, of course, you'll want to keep this set to "Yes".
Use the Availability section to control whether phrends can contact you via phone or video.

Phone is simple. . .unless you want to include multiple phone numbers. To do that, use the  "Add another…" option of the phone dropdown. With more than one number, use the "Manage…" option of the dropdown to control which number you want to use for phone calls and text messages--it doesn't have to be the same one for both methods.
Video is pretty straight-forward; yes or no.

We get that it can be a bit jarring to receive a phone or video request from someone you know nothing about. You can avoid this by checking the box next to "Don't allow video or phone messages until we've exchanged messages". Voila! Now, a phrend will have to receive at least one message from you before being allowed to contact you "live".
Do Not Disturb

Not a fan of a buzzing phone in the middle of the night? Neither are we. With DND enabled, your profile will not appear in browse search results and you will not be notified if you get new messages.
SMS/Text Messaging When Not Online

Once you leave the Phrendly site, it's hard to know how many adoring phrends want to chat with you. That's why it's important to verify that your phone can receive text messages from us. Once you do that, when you're not on the site, you'll be notified of new messages via SMS (carrier charges

may apply). What's more, we do this without ever revealing your actual phone number. All messages go through special Phrendly-only 512 area code phone numbers.
You'll know a message is from a phrend because your trusty digital assistant Phrendbot will introduce them, complete with a contact card. You can create a new contact from this card so that you easily identify your phrend by name and not by phone number.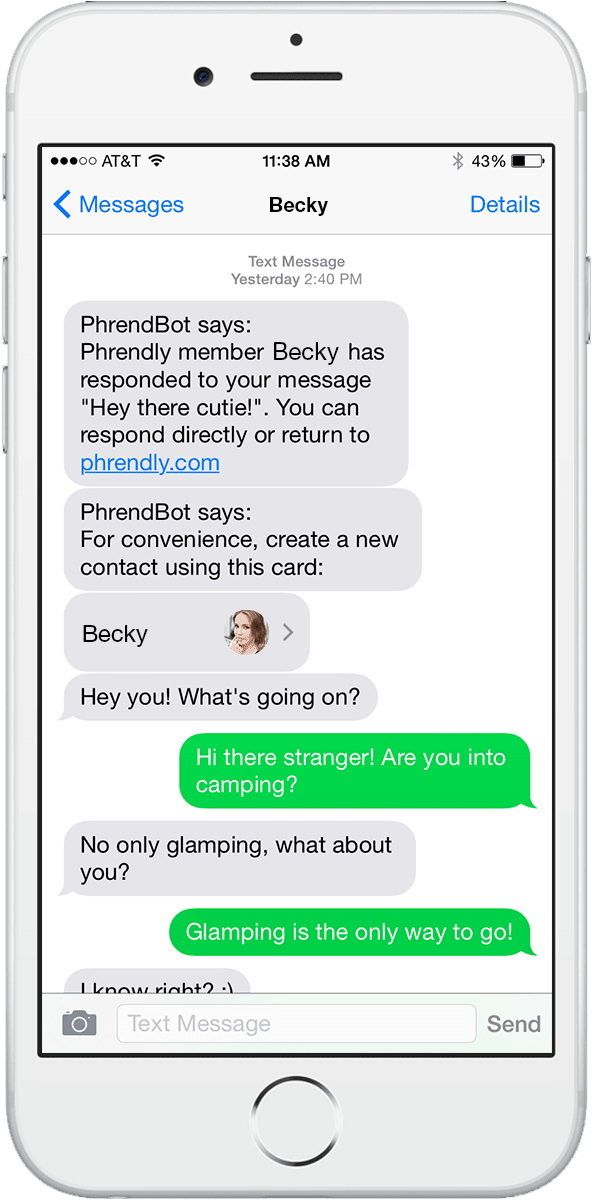 To take advantage of this super handy feature, make sure SMS Forwarding is ON and that you close any Phrendly browser windows or tabs.
Although you can't send images when texting with your phrends just yet (that's coming soon!), you can send them in Phrendly chat. Phrends who are using text will then get a link to the image that is accessible on their phones.
Made it this far? You're now an expert in Discoverability & Availability. Rejoice!