You've probably thought of a friend or two that would be perfect on Phrendly. Perhaps:
a girlfriend that loves to flirt
a friend who gives "good text" and could use some extra spending money
someone who could use the boost of feeling wanted
a guy friend who could use some practice with his "game"
If you tell a friend, you'll give them the opportunities Phrendly provides for all the above, and many more. You'll also be giving them a free drink to try it out, and you will earn a free drink (equivalent to $10.00) in return. To qualify, your friend must spend or earn $15.00 in real money (spending or earning from free drinks won't count)*.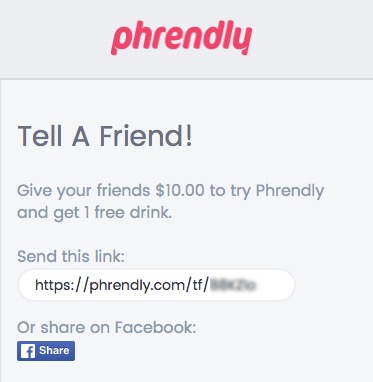 To get the referral credit, use your unique referral link found in the right-hand panel of the Settings section. Copy and paste that wherever you want, or use the handy Facebook button provided. A record of referral credits can be seen by clicking the Transaction Details link under Settings > Balance.
Will my friend receive unwanted emails from Phrendly?
Of course not! We will only send an email invitation to your friend if you request us to do so (uh, and we haven't even built that feature yet, so really, no). Once your friend signs up, they will be able to tailor their Phrendly email subscriptions to their liking, just like you.
*We take a 30% commission so a friend who earns $15.00 would equate to spenders spending $20.00 on your friend.