The idea behind Phrendly is really simple:
The best part of online dating is...well, the part that's online.
Does this sound familiar? You meet someone online, and the chemistry's off the charts. There's witty back-and-forth, and you can't help but check your phone every 2 minutes for their next response. But with the way current dating sites are set up, there's an expectation you have to meet IRL. You don't always want that. It can lead to awkwardness and the destruction of a really fun relationship.
Phrendly is different. Phrendly offers the thrill of online dating without the downsides and the expectation of an eventual IRL meeting. Let your internet self shine! Our unique vetting process and incentives ensure you'll always have a fun, safe, and rewarding experience.
Part of the rewards are emotional. Everyone loves the buzz of feeling wanted and the excitement of a new relationship. But the rewards can be much more tangible, because Phrendly realizes that everyone's time is valuable.
You see, on Phrendly, you show your interest in someone by "sharing a drink" with them, a drink that has a real monetary value. You pay when you ask someone out for a cup of coffee or a glass of wine, don't you? Same deal here, and just like IRL, your date receives the benefit of your generosity: his or her account balance goes up. If someone is interested in you, they do the same and you receive the value of the drink.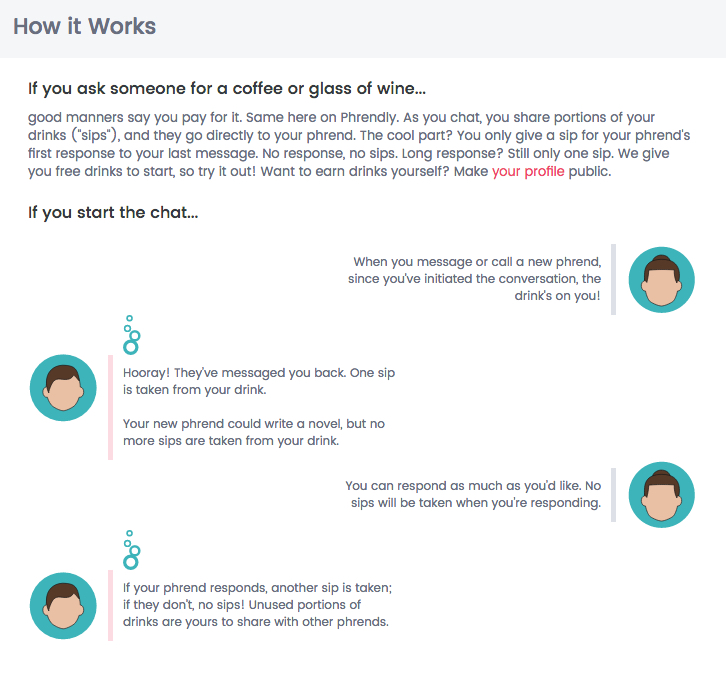 This keeps great people (like you!) on the site. The people you reach out to experience fewer frivolous interactions, so they are more attentive to you. People who reach out to you will be more focused and respectful of your time. It's win-win. We invite you to take part in it--we think you're going to like it.